«Back
Schneider Electric 2018 Innovation Summit Sydney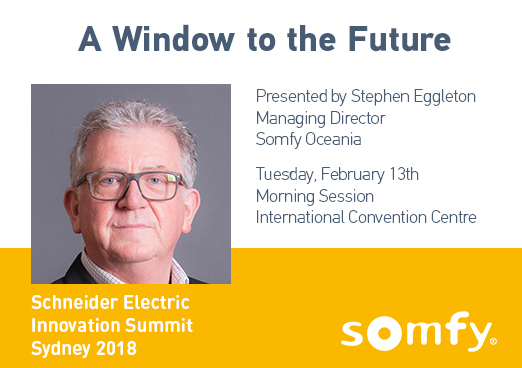 Somfy Oceania are proud Gold Sponsors of Schneider Electric's Innovation Summit Sydney 2018, taking place at Sydney's International Convention Centre on the 12th & 13th of February.
As the world leaders in innovative blind solutions, we will be presenting our latest technology and design methods for smart window coverings, creating intelligent environments that deliver wellness and improved operational expenses.
Hear from our Managing Director, Stephen Eggleton, as he presents A Window to the Future. Stephen has extensive International experience in building and automation products within the sustainable built environment. Stephen will be discussing the contribution of smart window coverings to transforming the way we live and work in the Expert Learning Session on Tuesday morning.
For more information visit: https://www.schneider-electric.com.au/en/work/events/innovation-summit-sydney-2018.jsp