«Back
Somfy Easter Egg Competition
To celebrate the upcoming Easter period, Somfy Oceania is holding a guessing competition! Head to the Somfy Australia and New Zealand LinkedIn page, like our page and find the Easter Egg post pinned to the top. Comment on the post with your guess on the number of chocolate eggs in the vase, for your chance to win a Georg Jenson designer vase valued at $130 and over $100 worth of chocolate!
The competition is open to Australian and New Zealand residents only, with entries limited to one per person. Entries close at 5pm (AEST) on Wednesday the 12th April, with winners to be announced from 10am (AEST) Thursday 13th of April. Read below for full terms & conditions.
From the whole team at Somfy Oceania, we wish you a Happy Easter and good luck!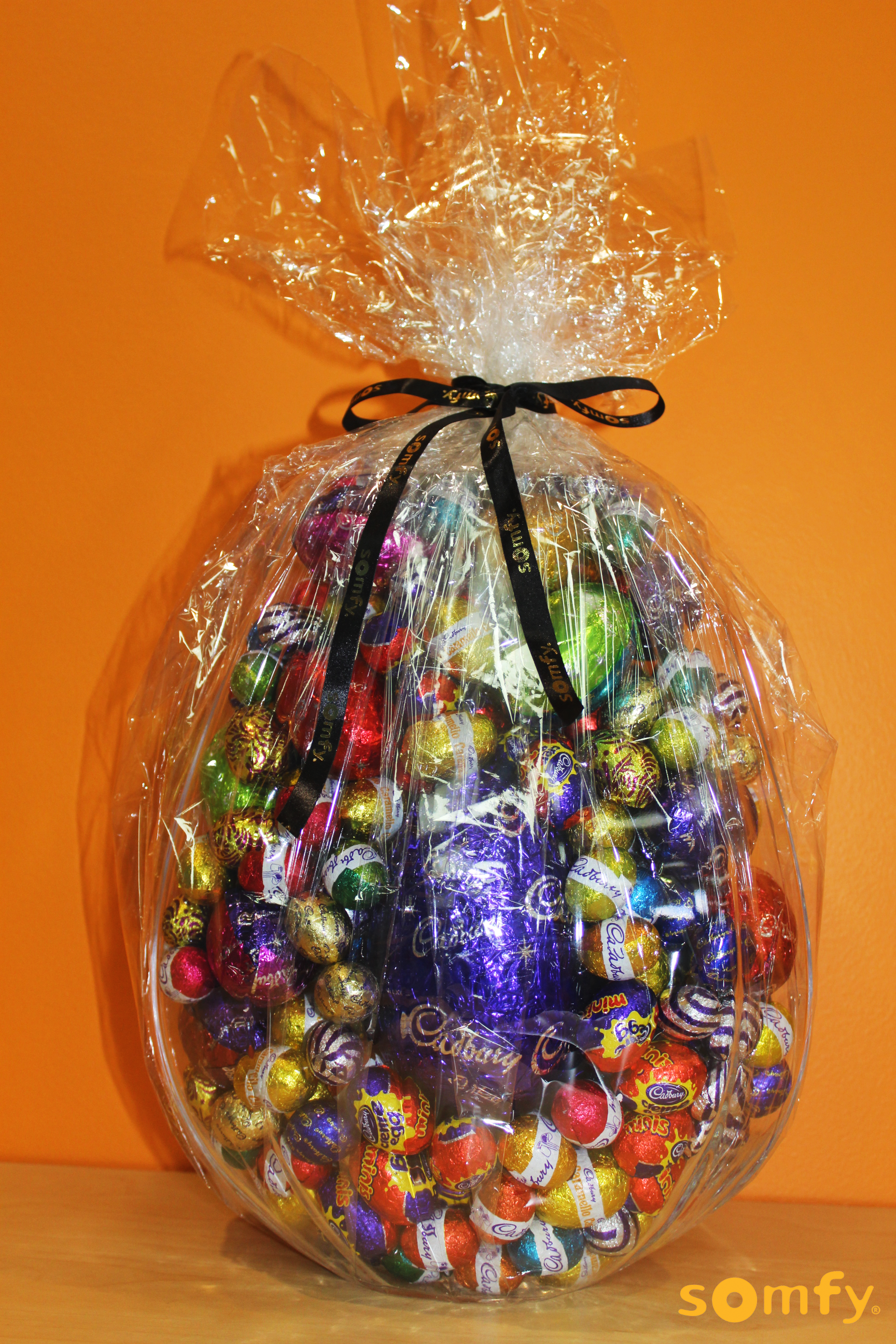 STANDARD COMPETITION TERMS AND CONDITIONS
A. Specific Conditions
Item 1

Competition Name

Somfy Easter Egg Competition (Competition)

Item 2

Competition Type

Game ofSkill

Item 3

Permit

N/A

Item 4

Promoter

Thepromoter(Promoter)isSomfy Pty Limited ABN 77 003 917 244 of Unit 20, 38-46 South Street, Rydalmere NSW 2116

Item 5

Website

www.somfypro.com.au(Website)

Item 6

Entry Restrictions

(i) Age–Entrants must be at least 18 years.

(ii) Resident Status –Entrants must beresidentsof AustraliaorNewZealand.

(iii) One Entry– only one entry is permitted per Entrant.

(iv) The employees of the Promoter, any of its affiliate, parent or subsidiary companies, or any agencies associated with this competition are not eligible to enter the Competition.

Item 7

Method of Entry

TheCompetition can beenteredonline via the Promoter's LinkedIn page.Entrantsmust:

1. Follow the Promoter's Australia and New Zealand LinkedIn page*;

2. View the picture exhibited at the Promoter's Australia and New Zealand LinkedIn page of the Jar containing chocolate Easter Eggs;

3. Post your answer on the Promoter's Australia and New Zealand LinkedIn page to the question "How many Easter Eggs are in the Jar exhibited on the Somfy LinkedIn page?" (Answer).

Entrantsmayberequiredtoprovidesomeorallofthefollowinginformationfor avalid entry: First and Last Name, Date of Birth, Street Address, Phone, Email.

* Entrants must be members of LinkedIn to be able to follow another LinkedIn member's page.

Item 8

Competition Entry Opens

12.01am(AEST)onThursday,6th April 2017

Item 9

Competition Entry Closes

5.00pm(AEST)on Wednesday, 12th April 2017

Item 10

Competition Judged

The Competition will be judged Thursday, 13th April 2017 from10.00am(AEST)

Item 11

DrawingDetails

N/A (forgame ofskill)

Item 12

NotificationDate

WinnerswillbenotifiedonThursday,13th April 2017by5:00pm(AEST)

Item 13

NotificationMethod

Winnerswillbe notified byLinkedIn.

It is the responsibility of each entrant to ensure that the details in their entry are correct. Entrants must only use their own LinkedIn page in connection with the Competition.

Item 14

DrawPublicationDetails

N/A (for Game ofskill)

Item 15

Prize

There will be one(1)prize winner who will win thePrize of Jar of Easter Eggs (jar and contents included) as exhibited on the Promoter's Australia and New Zealand LinkedIn page.

Prize value:$230

Item 16

UnclaimedPrize Draw

N/A (for Game ofskill)

Item 17

Special Conditions

1. The Promoter will not be responsible for replacing or retrieving any prize sent to an incorrect address based on incorrect details provided by any winner.

2. Entrants may only enter the Competition once.

3. The Competition will be judged based on the accuracy (calculation of the number of Easter Eggs in the Jar) of the Entrant's Answer. If there is more than one correct, or nearly correct, Answer, the Answer which is posted first (earliest in the duration of the Competition) on the Promoter's Australia and New Zealand LinkedIn page will be the winner. The decision of the Promoter is final and no correspondence will be entered into.

4. Any and all ancillary costs associated with any part of the Prize, will be the responsibility of the winners.

5. Answers must not contain any third party material for which the entrants have not received permission to use, and the Promoter's use of any Answer submitted will not infringe any third party rights.

7. Answers submitted as part of the entry must be in general good taste and the Promoter reserves the right to disqualify any entry where the Answer is offensive or is otherwise reasonably judged to be inappropriate for the Competition.

8. By entering the Competition, entrants acknowledge that the Answer submitted as part of their entry may be used by the Promoter in marketing material that may, without limitation, appear in print and online campaigns in Australia and internationally, regardless of whether or not that entrant is the winner of the Competition, and any photos submitted may appear in such formats in perpetuity.