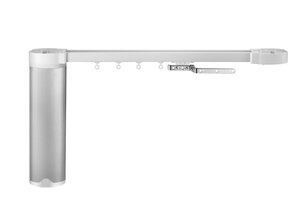 Ref : 1003160 - GLYDEA ULTRA 60e WT MIC
GLYDEA ULTRA 60e WT
Ultra performance in motion
Ultra-quiet, ultra-powerful, ultra-adaptable
Application
Curtains
Technology
Wired Technology (WT)
Product benefits
Reliable, robust and discreet
• The premium solution for residential and
commercial projects

Adaptable & powerful
• Compatible with multiple technologies
(WT/DCT/RTS/RS485) to meet the needs
of smart buildings and smart homes
• Curtain weight up to 60kg

Flexible installation
• Available with inline connector for ease
of programming
• Motor can be installed on the right or
left side of track
Details and specifications
Elegance
New design for the best aesthetic of the
complete solution.

Comfort
Enjoy one of the quietest solutions on the
market. Open and close smoothly to allow
the right amount of light to create a perfect
ambiance without disturbing your peace
and quiet.

Smart and simple
Enjoy your smart home by controlling your
curtains with Connexoon Window RTS and
voice control (through IFTTT).
Other documents & links
Others
End product
End product type
Curtain
Electrical
Minimum voltage
50Hz V
Maximum Voltage
230 V
Nominal Voltage / Frequency
AC
Mechanical
Nominal Torque
0.6 Nm
Standard
Protection Index
IP 30
Insulation class
Class I
Dimension
Length (L1)
348 mm
Other
Thermal time
2.5 mn
Working temperature
0 to 60 °C