Green Building Council Australia

Somfy Oceania is a long standing member of the Green Building Council Australia and is proud to offer our solutions to contribute towards earning GBCA credits. Somfy solutions for building automation of shading and natural ventilation devices create a bioclimatic façade. By interacting with outside elements to best utilise natural light and air while providing thermal and visual comfort, Somfy solutions contribute to energy savings, occupant comfort, and design innovation.
Somfy solutions provide the opportunity to obtain up to 59 GBCA credits as outlined below. For more information on how we can help, please contact us.
Management: Somfy can assist you in achieving 9 points out of a possible 12 points
Credits address the adoption of sustainable development principles from project conception through design, construction, commissioning, tuning and operation.
lMan-2 – Commissioning Clauses – Commissioning and handover initiatives that ensure that all building services can operate to optimal design potential = 2 Pts
lMan-3 – Building Tuning – Commissioning initiatives that ensure optimum occupant comfort and energy efficient services performance throughout the year = 2 Pts
lMan-5 – Building Users' Guide – Information that enables building users to optimisethe building's environmental performance = 1 Pt
lMan-6 – Environmental Management – The adoption of a formal environmental management system in line with established guidelines during construction = 2 Pts
lMan-7 – Waste Management – Management practices that minimisethe amount of construction waste going to landfill = 2 Pts
Indoor Environment Quality: Somfy can assist you in achieving 20 points out of a possible 27 points
Credits target environmental impact along with occupant wellbeing and performance by addressing ventilation, occupant comfort and indoor pollutants.
lIEQ-1 – Ventilation Rates – Designs that provide ample amounts of outside air to counteract the build up of indoor pollutants = 3 Pts
lIEQ-2 - Air Change Effectiveness – The delivery of optimum air quality to any occupant throughout the occupied area = 2 Pts
lIEQ-4 – Daylight – Designs that provide good levels of daylight for building users = 3 Pts
lIEQ-5 – Daylight Glare Control – Designs that reduce the discomfort of glare from natural light = 1 Pt
lIEQ-7 – Electric Lighting Levels – Base buildings providing office lighting that is not over designed = 1 Pt
lIEQ-8 – External Views – Provide occupants with a visual connection to the external environment = 2 Pts
lIEQ-9 – Thermal Comfort - Design of systems that achieve a high level of thermal comfort = 2 Pts
lIEQ-10 – Individual Thermal Comfort Control – Designs that facilitate individual control of thermal comfort = 2 Pts
lIEQ-13 – Volatile Organic Compounds – The specification and installation of interior finishes that emit no (or very low levels) of volatile organic compounds = 3 Pts
lIEQ-14 – Formaldehyde Minimisation– Specification of products with low formaldehyde emissions = 1 Pt
Energy: Somfy can assist you in achieving 25 points out of a possible 29 points
Credits target reduction of greenhouse emissions from building operation and peak energy demand reduction.
lEne-1 – Greenhouse Gas Emissions – Designs that minimisegreenhouse gas emissions associated with operational energy consumption = 20 Pts
lEne-3 – Lighting Power Density – Designs that provide artificial lighting with minimal energy consumption = 3 Pts
lEne-5 – Peak Energy Demand Reduction – Designs that reduce peak demand on energy supply infrastructure = 2 Pts
Materials: Somfy can assist you in achieving 4 points out of a possible 22 points
Credits target resource consumption through material selection, re-use initiatives and efficient management practices.
lMat-7 – PVC Minimisation– Reducing the environmental and health impact of Polyvinyl Chloride (PVC) by encouraging the use of PVC material which adheres to best practice guidelines = 2 Pts
lMat-8 – Sustainable Timber – Recognisingthe use of reused timber, legally sourced timber, and timber sources from forests whose conservation values are not degraded = 2 Pts
Emissions: Somfy can assist you in achieving 1 point out of a possible 16 points
Credits address point source pollution from buildings and building services to the atmosphere, watercourse and local ecosystems.
lEmi-7 – Light Pollution – Developments that minimise light pollution into the night sky = 1 Pt
Examples of Green Star Buildings using Somfy automation include:

Darling Quarter, Sydney
6 Star Green Star Office Design V2 and as built V3
---

 
161 Castlereagh St, Sydney
6 Star Green Star Office Design V2
---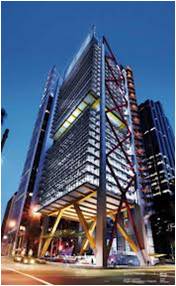 8 Chifley Square, Sydney
6 Star Green Star Office Design V2
---
University of Melbourne - The Spot, Melbourne
5 Star Green Star Education Pilot
---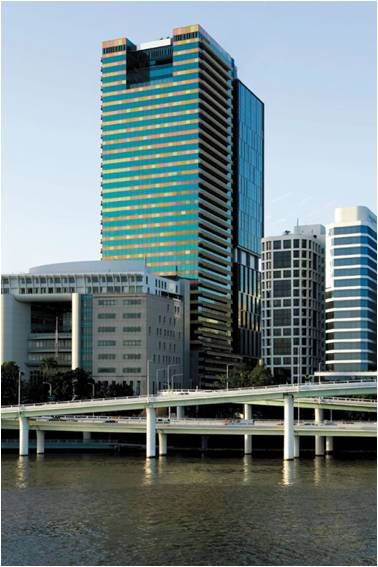 Santos Place, Brisbane
6 Star Green Star Office Design and as built V2
---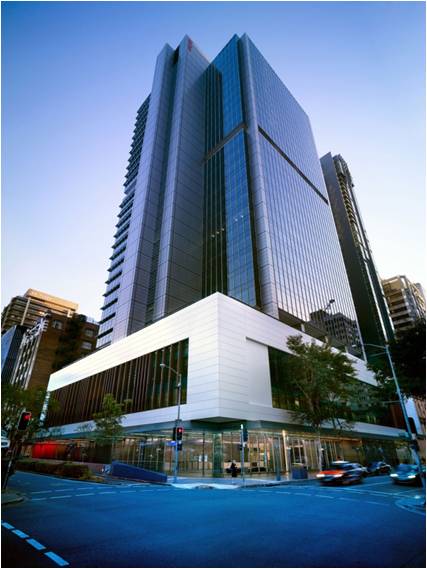 123 Albert St, Brisbane
6 Star Green Star Office Design V2
---