Somfy Services specialises in the electrical connection and programming of Somfy remote control and automated solutions.
Backed by over 30 years of experience in Australia and New Zealand and more than 50 years internationally, you know you're in safe hands with Somfy Services.
With a team of qualified electricians you can be sure that when your Somfy Services technician leaves your client's home, their new automated solutions will be working perfectly and they will be in total control.
Services Offered
Somfy Services offer specialised electrical connection and programming of electric motors and controls for Awnings, Blinds, Curtains, Projection Screens, Gates, Louvres and Windows.
Our services include:
Electrical wiring of motors, switches, controllers and sensors for motors

Installation of new circuit breakers

Programming of switches, controllers and sensors

Setting limits on motors

Installation of general power outlets for motors

Data cabling for control of motors

Connection of motors to Home Automation and Building Management Systems

Basic control setup of motors on Home Automation and Building Management Systems

Project Management

Commercial Installations

CBUS and KNX Integration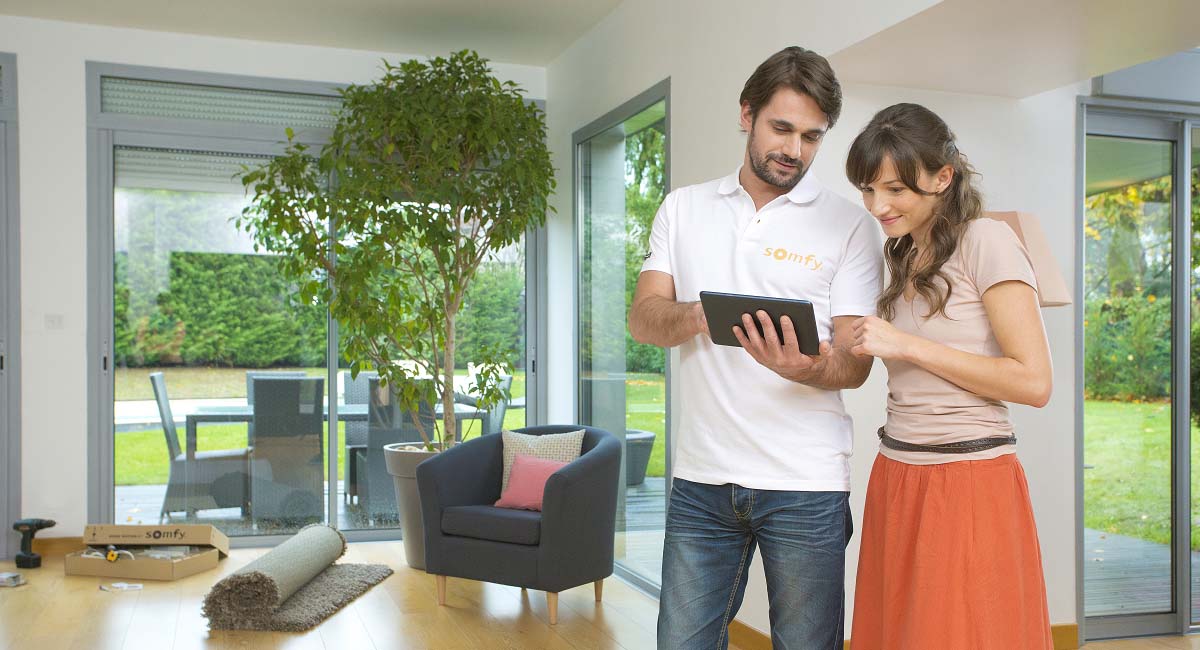 At Somfy Services we offer the highest possible level of service and professionalism at all times. The Somfy Services Charter is our commitment to you, our valued customer.
When you contact us, one of our friendly team members will determine your needs and provide a cost estimate. Once you have made a booking, you will receive a firm booking date with a 2 hour arrival time window along with confirmation details of your booking.
On the day of your booking, your qualified electrician will contact you 30 minutes prior to arrival and should they be unable to arrive on time they will contact you ASAP.
On completion of the job they will ensure that all work is carried out to your satisfaction and explain all the features of the Somfy automated installation.
All work is carried out to AZ/NZS 3000 standard and you will be given a certificate of electrical compliance on completion.
You can contact us on behalf of your customers or they can contact us directly here.
Download the Somfy Services Pricelist
Please note: At this time, Somfy Services only operates within the Sydney metropolitan area. If you are in another State or outside of this area, please contact Somfy on 1800 076 639 for more information.
Longer Warranty for Added Peace of Mind
When you have the Somfy Services team install, connect and program Somfy branded motors in a residential dwelling, the standard warranty period is extended by 2 years.*
That means that Somfy hard-wired motorised solutions installed by Somfy Services at residential dwellings are warranted to be free from defects for 7 years* (up from the standard 5 years) from the date upon which the installation, connection and programming of the Somfy motorised solution is completed.
Plus, all electrical installation services provided by a Somfy Services licensed electrician are warranted to be free from defects in workmanship for a period of 1 year from the date upon which the supply of service was completed.
Click here to read Somfy's Warranty Statement.
*Excludes Somfy battery powered motor products which are capped at the standard 5 year warranty term.