Somfy Oceania News
202004
COVID-19 Update - Office Closure
Whilst our Rydalmere office and warehouse remains operational, with appropriate health and safety practices in place, I and most of the Somfy office staff, like many of you, are working from our homes.

The safety and welfare of our employees, contractors and business partners is paramount, and we have followed the advice published by the various levels of government, health authorities and Safe Work Australia in relation to how our business should be operating in a COVID-19 environment.

After consulting with our customers, suppliers and staff, we have now decided to move to a 4-day week during May and June 2020. Although our Rydalmere office and warehouse will be closed on eight consecutive Fridays, we will still be processing Webstore orders and providing Phone Technical Support Monday to Friday.

The Somfy Electrical Services team of field-based Electricians will continue to be available, Monday to Friday, to complete installations and electrical connection and programming of Somfy's remote control and automated solutions, subject of course to stringent compliance with the appropriate health and safety requirements.

Internationally, during the past month or so, Somfy had to temporarily suspend or limit the activities of some of its production and logistics facilities. However, locally, we are currently receiving product into our warehouse and meeting customer orders without undue delay. Whilst Somfy's global supply chain is now ramping back up, it is likely, that our sourcing and distribution of products may still be disrupted in the future while COVID-19 continues to impact global supply chains.

If you have concerns regarding product availability, please contact Somfy Customer Service before placing your order. Whilst Somfy will always use commercially reasonable endeavours to source and supply our customers with Somfy product on a timely basis I refer you to our Terms of Trade which note that any date given by us for delivery of product is an estimate only and Somfy will not be responsible for the consequences of any delay or non-delivery.

The statement that 'these are extraordinary times' is much used however, notwithstanding the hurdles which the COVID-19 contagion has thrown up, Somfy Oceania is still very much here, operational and available to support you.

I, and my team, look forward to working constructively with you to address your concerns and satisfy your requirements for Somfy products now and beyond the material impacts of COVID-19 on Australian society and business.

Please do not hesitate to contact me if you have any questions or require assistance.
Stephen Eggleton
Managing Director
Somfy Oceania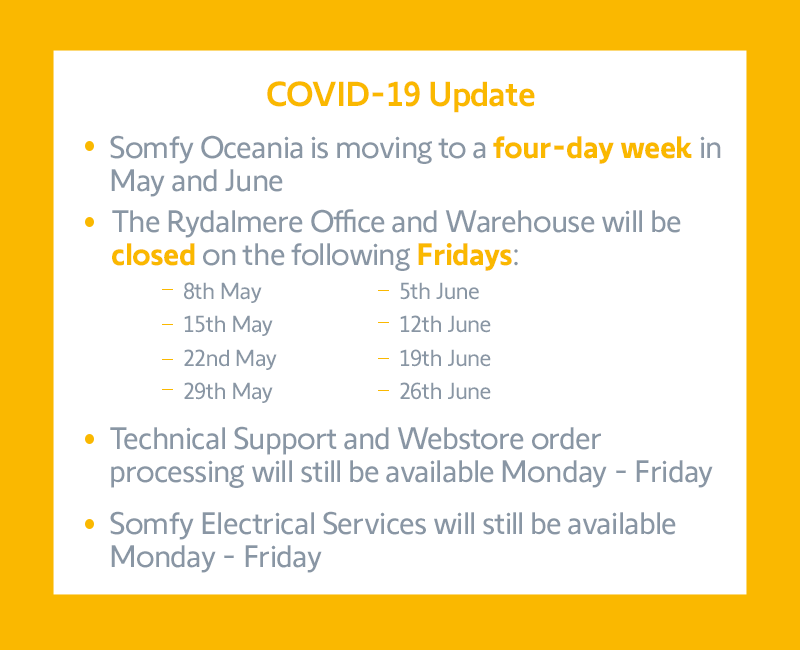 View Count

289 Views